Welcome to Foodie Friday, where great recipes are always on the menu. I'm giving away a gorgeous garden basket--the winner will be announced next Foodie Friday. Today, some of my friends will be cooking recipes from A Teeny Bit of Trouble. I invite you to share a link to your blog post to my Facebook page--my publisher and literary agency have already Tweeted and shared Mary's fabulous post at Home Is Where the Boat Is. I can't wait to see what you all have been cooking, whether the recipes are "Teenified" or not.
Things have been a little wild at the farm. An injured goat is living in my foyer, and my husband brought home an orphaned baby duck--never a dull moment on a farm.
I wanted to thank everyone for helping me celebrate the publication of my new novel and for taking the time to share your favorite foodie memory. I enjoyed reading them so much.
Are you ready to hear about last week's contest? Six people won a copy of A Teeny Bit of Trouble.
Really Rainey
Jennifer Watkins-Jones
Lynn at Happier Than a Pig in Mud
Meredith at Mere Thoughts from a Mommy of Boys
Sue (Someone's Mom)
Whimsical Wonders Nursery
The winner of the KitchenAid mixer (and a copy of the novel) is...
Cathy at Wives With Knives.
Congratulations to all! Please email your address, and in the email header please put CONTEST. Thanks!
If you'd like to enter this week's contest, leave a note, explaining what you would do with a gardening basket.
Thank you for stopping by Foodie Friday today. If you are contributing a recipe to this week's linky party, locate the blue Inlinkz frog (below, left) and follow the instructions. You might notice a red "X" on your submission--only you can see the "X." It allows you to delete your link if you'd like to edit or change your photo.
The Foodie Friday Button: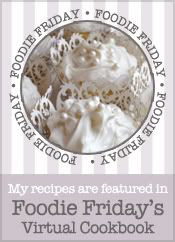 If this is your first time to participate in Foodie Friday, or if you aren't sure how to add a permalink, a short
tutorial
is available. If you are linking a recipe to Foodie Friday, a FF button can be found on the sidebar. If you'd like to add it, simply copy-and-paste the code beneath the button (located on the right-hand sidebar).
Please Read:
I'm happy for you to "pin" my original photos to Pinterest. However, the photographs in Foodie Friday's thumbnails belong to the bloggers who posted them. To visit these blogs, click on the Foodie Friday inlinkz icons and read their policy on Pinterest. Please pin from the source blog, not the blog that's hosting a linky party. Thanks!